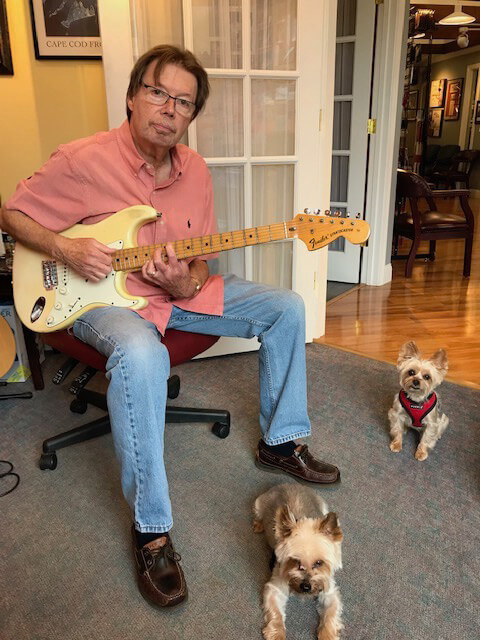 Qualifications
BM, Berklee College of Music
Alumni Grant Committee, Berklee College of Music
Bio
Growing up in Littleton, MA., Jay began playing guitar in sixth grade. By seventh grade his rock bands were playing the Junior high school dances. Through out high school he continued to perform with various instrumental combinations for school dances, coffee houses, teen centers, private parties, and the USO, including a gig at Cutler Army Hospital on Fort Devens for recovering wounded Vets from Vietnam.
After graduation from High School the completely self taught guitarist entered Berklee College of Music where he received his first formal study from Jon Damian and Charles Chapman on guitar. Four years later Jay graduated with a Bachelor Degree in Music, Major in composition and arranging, and guitar as his principal instrument.
As a sophomore at Berklee Jay began teaching professionally when his arranging instructor suggested he take over his private students were he lived. He began teaching out of his home and traveling to student's homes.
In 1980 Jay joined the faculty at Centre Music House in Framingham, M.A. where he taught fifty private lessons per week, in addition to performing, and a stint of teaching Music Appreciation at Notre Dame Prep in Fitchburg, MA. He resigned in 1986 to join the faculty and become the Education Director at a music school in the Metro West area where he remained for 16 years.
On November fourth 2002, Jay and his wife Donna opened The Music Maker School in Acton, MA., a complete music education facility where he continues to teach over fifty lessons per week. With over twenty-two years of experience Jay has taught literally thousands of lessons.
In addition to being proprietor of the Music Maker School, Jay continues to perform gigs throughout the year. The last twenty-two years of performing have taken him to: MA, RI, CT, NY, NH and ME. where he has performed in Jazz Combos, Show Bands, General Business Bands, Orchestra Pits, Recording Studios and on Radio and Cable Television. The last sixteen years have focused on solo to quintet jazz performances.